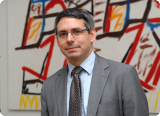 Vincent Chriqui is Director General of the Centre d'analyse stratégique, a role he has held since January 2010.
From 2007 to 2010, he was adviser in charge of analysis and parliamentary adviser to the cabinet of Francois Fillon (Prime Minister). He previously acted as Chief of Staff to Gerard Larcher, Minister Delegate for Employment, Labour and the employability of youth, and Deputy Chief of Staff to Jean-Louis Borloo, Minister for Employment, Social Cohesion and Housing.
Betweeen 2002 and 2005, he was budget adviser to the cabinet of Francois Fillon, Minister of Social Affairs, Labour and Solidarity (2002-2004), then Minister of National Education, Higher Education and Research (2004-2005).
Between 1999 and 2001, he was in charge of the Economic and Monetary Union at the Ministry of Economy and Finance (1999-2001). In this position, he was a member of the Economic Policy Committee of the European Union. He had previously been responsible for environemental and agricultural budgets at the Directorate of Budget (1997-1999).
He also taught economics at the Institut d'études politiques in Paris (1998-2000) and at the University Paris II Panthéon Assas (2005). He is the author of the book A qui profite le libéralisme ? (2003). Vincent Chriqui is a graduate of École polytechnique in Paris and of École Nationale d'Administration.