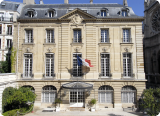 The Centre d'analyse stratégique is a research-based advisory institution under the authority of the Prime Minister. Its mission is to advise the government in defining and implementing its strategic policies on economic, social, environmental and technologic matters.
Created by decree on March 6, 2006, the Centre succeeds the Commissariat général du Plan. At the Prime Minister's request, the Centre determines the principal governmental reforms. Furthermore, the Centre leads studies and analyses of its own initiative within the framework of its annual work programme.
The Centre draws upon an eleven-member steering committee, of whom two are Members of the National Assembly, two are senators, and one is a member of the Economic, Social and Environmental Council.
The Centre works in coordination with the main advisory and research institutions reporting to the Prime Minister: Conseil d'analyse économique, Conseil d'analyse de la société, Conseil d'orientation pour l'emploi, Conseil d'orientation des retraites, Haut conseil à l'intégration.
The Centre also is to oversee and to facilitate a better integration to the European dimension in government policies by coordinating between the national and community levels, in collaboration General Secretariat for European Affairs (SGAE)
What is it working on?
The Centre d'analyse stratégique's studies are made public in the form of written documents (policy briefs, reports and documents). Throughout the year, the CAS organizes numerous symposiums, workshops and seminars. Besides, it produces an annual report presenting the outcome of its works devoted to the main strategic challenges for French public policies.