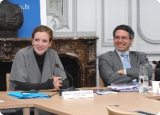 Tuesday, March 16, Vincent Chriqui, Director General of the Centre d'analyse stratégique, officially handed over to Nathalie Kosciusko-Morizet, Secretary of State for Forward Planning and Development of the Digital Economy report "New approaches to health prevention Public - The contribution of behavioral science, cognitive and neuroscience. " This work was coordinated by Olivier Oullier and Sarah Sauneron.
prevention messages in health today meet limits. Whether obesity or smoking, campaigns for the general public often allowed to raise awareness but they are struggling to change risky behaviors. But some problems are alarming. Thus 15% of children between 5 and 11 years are now overweight and 4% are obese, a figure that is growing for ten years. Cigarettes remain on it the leading cause of preventable death in France with 66 000 deaths annually.
Faced with such phenomena, coupled with a constant widening of the deficit of social security, it is necessary to refine prevention strategies to make them more effective. It is in this perspective that Nathalie Kosciusko-Morizet , Secretary of State for Forward Planning and Development of the Digital Economy has asked the Centre d'analyse stratégique to focus on the contributions of behavioral science and cognitive neuroscience in prevention strategies.
Several avenues exist for improving communication strategies in public health. And to appeal to reason, fear, surprise, responsibility, pleasure or disgust was not as effective depending on whether one is for the young or elderly, smokers or people overweight. By studying the brain function together to work on consumer behavior, we can better understand how an individual reacts to a message or an image used as part of a prevention campaign. Because it is now beyond the awareness of risks to achieve real changes in behavior.
Directed by the Centre d'analyse stratégique, in collaboration with French and international researchers in marketing, neuroscience, psychology and behavioral economics , this work reveals the nature of innovative strategies considered most effective in deterring risky behavior. It opens up promising and offers many simple, effective and affordable.
This report is part of the program "Neuroscience and Public Policy" and follows discussions held in mental health.
Three examples, which have currently of great interest societal, political and media are specifically developed here: the contribution of behavioral sciences in the fight against tobacco, accidental poisoning domestic and obesity.
This work was logically destined to enrich the thinking for the development of the third National Health and Nutrition Plan (PNNS), expected to succeed PNNS 2 comes to an end in 2010. Furthermore, examination of what can be expected of prevention is a necessary prerequisite while a new five-year statute of public health must be voted on shortly.
---
PRESS CONTACT:
Jean-Michel Roullé
Head of Communications
Centre d'analyse stratégique
18 rue de Martignac, 75007 Paris
Tél. 01 42 75 61 37
Mob. 06 46 55 38 38