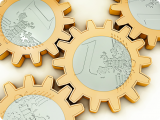 Macroprudential policy against financial instability (Note Analysis 330 - April 2013)
Analyze the financial framework (regulatory and financial cycle, union bank) and its interaction with monetary policy leads to leads for their construction and coordination.
Macroprudential policy against financial instability
The recent financial crisis has shown how price stability is not enough to ensure financial stability. The two decades preceding the crisis seemed to be a "divine coincidence", where a monetary policy focused on the stability of inflation seemed sufficient to ensure macroeconomic and financial stability. The outbreak of the crisis has questioned this intuition. Some authors even defend the idea that price stability and monetary policy accommodative accompanying sowed the seeds have a high risk-taking by financial intermediaries to the origin of the crisis. What is certain is that neither the market nor the self-monitoring financial prevailed could not prevent runaway "systemic" where the alteration of certain activities of the financial system had important consequences only the financial system but also on the real economy. Proposals for reform of financial regulation were then directed towards the so-called policy of "macroprudential", whose objective is to maintain global financial stability that goes through the prevention of risks to the financial system ex ante and mitigation of their impact on the economy in crisis.
These new regulatory instruments, including equity and liquidity of banks, however, may conflict with the objective of price stability for monetary policy. The evolution of economic systems, financial and monetary reinforced their interdependence, urging them to redefine their respective perimeters. To understand how to promote both financial stability and the prices, it is necessary to understand the roles and contours of monetary and
macroprudential and their interactions. Recent economic research suggests some avenues for encouraging the construction and coordination of these two types of economic policies.
At the time of the construction of the union bank and extending the responsibility of the European Central Bank (ECB) in the field of banking supervision, including these studies recommend that macroprudential policy is conducted within the ECB by the creation of a committee dedicated to the control authority whose independence is to be guaranteed.
Summary
What financial instability?

To address financial instability, the establishment of a macroprudential policy in Europe

What role for monetary policy in the prevention of financial instability?

Banking regulation and monetary policy: what governance at European level?
Author

: Caroline Le Moign, Economic and Financial Affairs department

Keywords : macroprudential, monetary policy, ECB, union bank financial cycle, Basel III financial regulation.