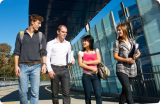 A European Fund for Youth Employment: Proposal for an initiative (Policy brief - June 2013)
Given the deepening youth unemployment in Europe, this issue of La Note d'analyse suggests to set-up a European Fund for Youth Employment. Its aim would be to enhance both efficiency in channelling the funds and solidarity between member States in addressing the crisis.
A European Fund for Youth Employment: Proposal for an initiative
The dramatic rate of youth unemployment in Europe is an undisputed fact. The risk of a lost generation, notably in Southern Europe, is now a plausible scenario. The current situation is also hazardous at a political level, as it runs the risk of delegitimising the public authorities, including the EU institutions, in the eyes of young people.
While the increasing qualifications of young people impacts competitiveness, unemployment is affecting young people as a whole, including the most highly qualified. Moreover, because the persistence of unemployment at the end of initial training devalues qualifications, this could also lead to an increase in long-term structural unemployment, thus penalising the future growth of Europe and potentially weakening the viability of the Eurozone.
Since the beginning of the crisis, governments have taken action at both national and EU level to mitigate its effects on young people. Given the deterioration of the situation, new initiatives have been proposed to accelerate the implementation of these actions. At the European level, two proposals have attracted much interest: Firstly, the Youth Employment Initiative proposed by the Commission and validated by the European Council on 7 and 8 February 2013. Secondly, the Franco-German initiative for the employment of young people known as "New Deal for Europe", launched on 28 May 2013.
In financial terms, these initiatives involve the rapid deployment of funds, notably from the European Social Fund (ESF). Although these funds supplement the efforts already undertaken at national level, they are nevertheless subject to two limits:
their effectiveness would be undermined if they relied on the same mechanisms of allocation and management as those of the ESF;
the inherent solidarity of the ESF would be insufficient in view of the difficult situation of the most affected countries.
Summary
Youth unemployment in Europe: a socially dramatic, economically punitive and politically dangerous situation
Joint initiatives, but a wide range of instruments for heterogeneous european labour markets
Towards the urgent creation of a european fund for youth employment
---
Authors: Mohamed Harfi and Quentin Delpech, Labour and Employement department
Keywords

:

Youth unemployment, Europe, Employment policy, Structural funds, Employability

.